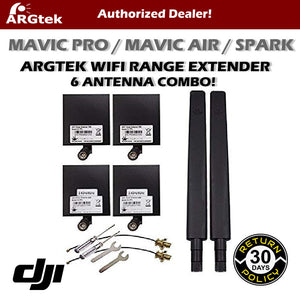 ARGtek DJI Mavic Air/Pro/Spark WiFi Signal Range Extender Kit - 6 Antennas
Product Information:
Part Type:
Product Code
Description:
Four customized high-gain 2.4GHz/5.8GHz 7dBi panel antennas (Unobstructed, free of interference).
Two customized high-gain 2.4GHz/5.8GHz 7dBi Omni-directional antenna with installation hardware.
Lightweight, durable, practical and convenient to use in compact design.
Easy install, no need to drill the remote control or drone, avoid out of warranty.
Enable full 2.4GHz-5.8GHz, you may need manually switching between 2.4GHz-5.8GHz to get the least interference.
Why Omni and Panel?:

We prefer Panel antenna for pilots who's need for long range but it more straight direction pointing to your aircraft when during up to the air, this need more skill to handling for the best range.
We also prefer dual band Omni-directional for who's need to use for Filming Production/Rescue/Research team because the Omni-directional antenna more surround range.
Why do our kits have 3 kinds?:

Because 2.4GHz is more crowed doing at the city, but in open area the 2.4Ghz signal is stronger than 5.8Ghz.
Dual band antenna is more user-friendly because you no need to switch between 2.4Ghz-5.8GHz.
Pilots still need to use their own judgment, because different pilots fly on different environments and locations.
Compatible With:

DJI Mavic Pro
DJI Mavic Air
DJI Spark