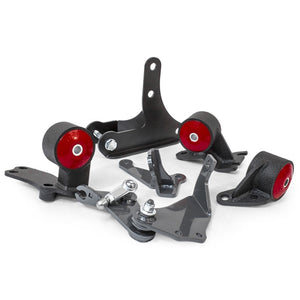 PRODUCT INFORMATION:
Brand: Innovative Mounts
Part Type: Innovative Performance Mount - Mount Kit
Product Code / Interchanges: 4915275A / 49152-75A
This Kit Includes :
1) Engine Block Mount - 49111
1) Transmission Mount - 49121
1) 12 x 1.25 x 50
1) 12mm Washer
1) Rear Engine Mount - 49131
1) Rear Engine Mounting Bracket - 49131-SB
1) 12 x 1.25 x 90
2) 12mm Washers
1) 12mm Nut
1) Cable to Hydro Actuator - 41002
1) Actuator Heim
1) Pivot Ball
Note :
IF YOU ARE USING A FIRST GENERATION ENGINE(Pre 1992) PLEASE SEE PRODUCT 49151 THE DRIVER SIDE MOUNT(19111) IS DIFFERENT FOR THIS APPLICATION.
The original timing belt post mount is required to fit the driver side mount.
This kit can also be purchased without the Actuator.
Note :
It is strongly recommended that all installs be done by a mechanic or automotive specialist.
Mounts CAN NOT be returned or swapped out after they have been bolted down (revealing bolt impressions).
PLEASE MAKE SURE THIS KIT FITS YOUR VEHICLE BEFORE BOLTING THEM IN PLACE.
Innovative Engine Mounts are built for performance driving.
Although Innovative's bushings are made to absorb engine vibration you may still notice slight vibration depending on your engine's series and HP.
Innovative Mounts removes the dampening oil containers harbored by OEM/Stock mounts.
By switching to stiffer mounts without the fluid reduces wheel hop and increases driving response.
Description:
Browse our eBay listing by clicking here
GENERAL INFORMATION:
Returns:
Returns are accepted within 30 days of receiving the item.
Please contact us to receive RMA information prior to return.
For full refund item must be in the condition it was received in and in original box it was shipped in. Failure to comply may result in a restocking fee.
Refund will be processed once item is approved after inspection.
If the buyer has made an error in their purchase the buyer must pay return shipping.
If a mistake has been made on our end we will pay for return shipping.